Sad Girl Night 8/25/19 ft: Rosemay Joaquin, Savannah Sgro, Adara, and Sara Benyo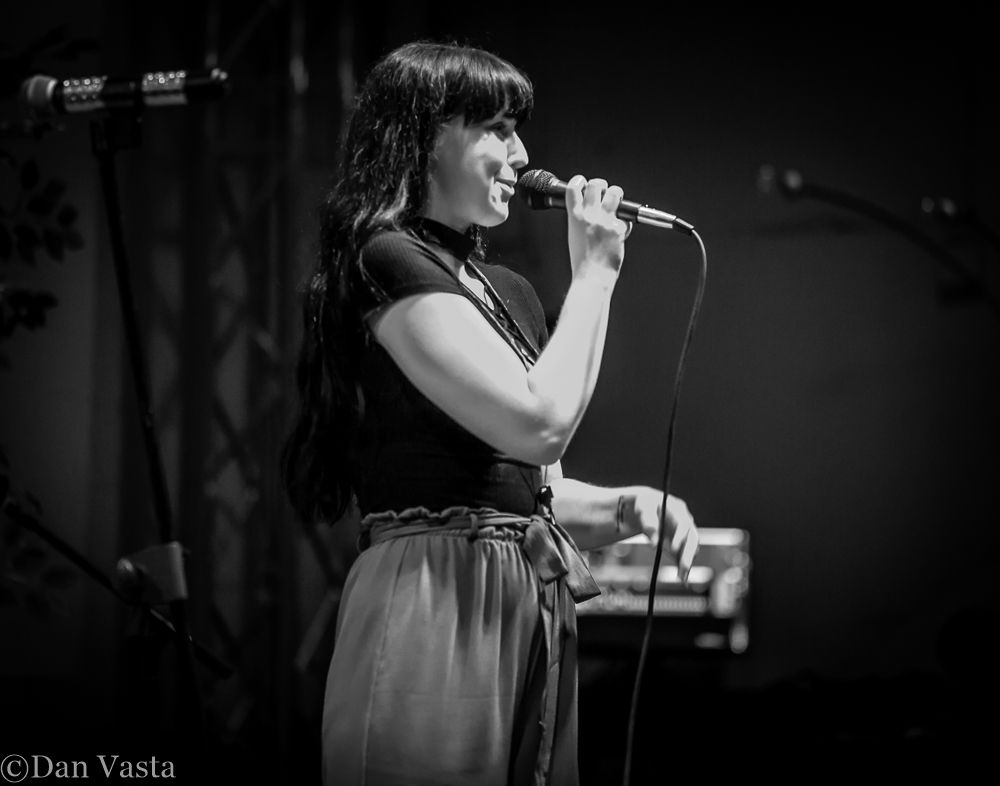 "Vulnerability is what makes us strong; we have to b
e brave to be vulnerable."
Every Sad Girl Night has its own personality. We went into our August showcase with an official theme; Pop Queens. By the end of the night it had become abundantly clear what our ACTUAL theme for the night was.
SPACE
This past Sunday our stage, which you'll usually find filled with gear for our bands, was stripped down. There were no drum sets, no pedal boards, no amps.
Space for our four Queens and their audience to dance.
We found space in everything from the music of Rosemary Jaoquin and Savannah Sgro; wielding open and bare songs, to the alien-themed jumpsuit worn by Adara and the flickering lights dancing off Sara Benyo like multicolored stars.
August brought us wonderful memories. Before we dive into the music portion though,
Darla is the adorable, peanut-butter loving face on the logo of local business Darla's Bagels and we've been lucky enough to have them as an official Sad Girl Night sponsor for the past two months! On top of providing us with the freshest and tastiest bagels to snack on at the show, this month we got to meet cute little Darla herself. She ran around making new friends, her buddy Jake in tow, right up until the music began and the night was set in motion with our opening performer:
The powerful voice of Rosemary Joaquin was the first of the night. Sitting in a large, comfy green chair, center stage, her soulful songs hit the audience just right. As our Sad Girl Music team walked through the room we kept hearing "she's really awesome" whispered over and over.
Rosemary explained that moving to Nashville, she felt as though it would be difficult to find other Pop musicians to relate to musically. Contradicting that idea, she found that Nashville has a strong, empowering and supportive Pop community. Thankful to have her at Sad Girl Night, we had a chance to recognize her talent as she graced the H.O.M.E. stage. Even the rain seemed to hear her and tune into her songs. Right as she sang the last words of a song, "I hate that I love you," it began pouring outside as though we were all in a movie and she was the soundtrack.
Following Rosemary, Savannah Sgro stepped up to the mic. Savannah has a genuinely sweet and gentle presence. Playing with tracks and a keyboard, she hit us hard with songs about real, and sometimes tough topics. In her song "I don't want to be friends (with your girlfriend)," she sang about her relationships- or lack thereof- with her Father's girlfriends growing up. Putting it bluntly that at some point, you just don't want to know them as they flicker in and out of your life, ever-changing.
Savannah's voice is clear and ethereal. When she stands alone with her keyboard, it's mesmerizing; and when she adds a track, the real magic begins as the songs come alive with movement. Never off key or missing a beat, and showcasing the trademark vulnerability of all our Sad Girls, she shared songs both new and old with us as we soaked it in.
"She shines a light to say that it's okay to be different." Those are the words that Elisabeth chose to introduce our next performer; Adara. (She wasn't wrong.) Dressed in an alien-inspired jumpsuit and filled to the brim with inspiring words and warmth, Adara made everyone feel seen through her music. Beginning her set, she took flight with a strong opening track and beautiful vocals.
Each song had a story or a message. Though touching on hard topics like divorce and isolation, she took those hardships and turned them into stunning works of art and healing. Among our favorites was a tune called "Alien" which has a music video dropping on October 2nd! It features real stories of trauma and pain from her fans via writing on a body suit. She goes on to explain that with this song she is letting others know that they are not alone in their struggles. There is a community, herself included, who can help carry the weight. Adara is truly an empowering Sad Girl.
Our final performer of the night was the only Sad Girl Alumni we've ever had play Sad Girl Night twice. The one and only Sara Benyo blew us away once more! After she stepped in to save the day when we had a last minute SGN performer dropout back in April, we had to have her back. Sara has an infectious energy on stage that gets the audience on their feet and mirroring her enthusiasm. It's incredible to watch. She manages to jump all around the stage while singing her heart out; all the while staying on key. (We've tried to do that...it's very difficult.)
Sara is a wonderful performer. Much like Adara, she uses her platform on stage to open up and be vulnerable and honest with her audience. To preface her final song, "Lost You," she shared with us some of her struggles over the past year. We related to her as she told us about finding herself again after a long and toxic relationship. We nodded our heads as she explained that finding yourself is the difference between saying yes or no to something that will affect your wellbeing. At the end of her story, we danced with her until the lights came on.
Each and every Sad Girl Night is an experience of its own. No two are the same. This month we had Pop Queens and next month will bring a whole new era. Sad Girl Music is entering its second year with a free Birthday Celebration that will feature five incredible female artists as well as vendors to line the hallway of H.O.M.E. You don't want to miss the music of Catalina, Bee Taylor, Laurel and The Love-In, Elisabeth Beckwitt, and MOLLĒ as we glide into year two and bring the house down with grace and vulnerability! Come on out to celebrate with us! RSVP below.
If you have enjoyed one or more of out free events and would like to donate to Sad Girl Music, it is never expected and always appreciated. We love our Sad Girl Music community and can't wait to see you again soon! Venmo: @sadgirlmusicofficial
written by: Christine Harazim